DirtCraft Development Squad
Age – Year 9+ to apply
Location – Tauranga, New Zealand
Time – All year
Cost – $150
The cost goes towards one of our 3 day camps per season (Summer Camp December, Winter Camp July) along with invitation and communication to all team events and activities.
Squad Objectives
To make high level NZL and International racing more accessible.
To assist character development with situational learning in the MTB environment.
THIS IS NOT A RACE TEAM WITH THE SOLE OBJECTIVE OF PERFORMANCE AND RESULTS, but more focus around developing the character of the rider as they develop through Highschool. Camps, training and racing present the perfect opportunity for growth and development of the individual. Our focuses to assist this include –
Maturity – Riders are able to keep a level head and open mind in new environments.
Independence – Riders are in positions where they are encouraged to develop Independence.
Resilience – Riders face adversity and assisted with developing resilience.
We encourage our riders to set goals, manage failure, and respond with resilience to adversity in a supportive environment. The environment of the DirtCraft Development squad is designed to accommodate organic adversity in a riders journey and help provide a platform to support their development and growth to guide the kids to build life skills from these experiences.
The programme is highly customisable for each individual to include the camps and racing trips that suit them, however the squad objectives will not budge
Prerequisites
Rider is current Mountainbike Tauranga Club Member.
Rider able to ride Grade 5 trails or higher.
Rider has suitable equipment.
Rider is Year 10+.
Rider demonstrates frequent effort to obtain personal growth from Mountain Biking.
Rider meets selection criteria and has a successful application.
2023 Proposed Events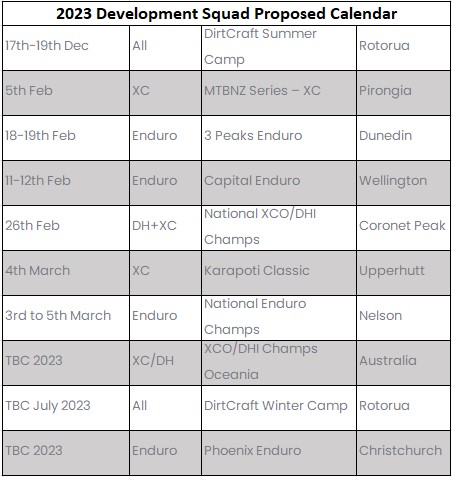 Applications & Registration
All 2023 applications are to be sent to Tristan at tristanhride@gmail.com by 28th October 2022.
To Register for 2023 you can sign in at the top of the page from Wednesday 21st September.