Development Squad
The 2024 Development Squad is the final step of your Youth Development Pathway. Development Squad facilitates Squad Camps & wider Event access. To be included in the Development Squad, riders must complete the application process to access Squad Camp and Events. There is no cost to apply for the Development Squad.
Our OBJECTIVES
To make high level NZL and International racing more accessible.

To assist character development with situational learning on Squad Camps and at events.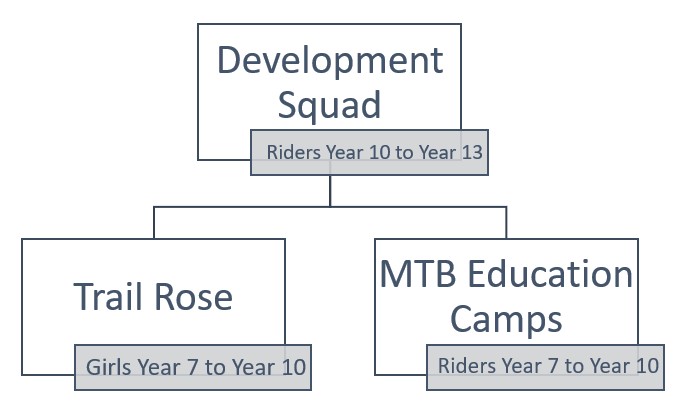 Squad Camp

Squad camps occur once per year in December. Camp is focused testing and developing each individuals character. The enjoyable Squad Camp is made up of mental, social and physical challenge to develop not only teamwork, but independence, risk management and resilience of each rider. All of which are key skills to navigate the real world as adults and when racing at events.

How it works

Once a riders Squad application is approved they will be receive a camp invitation, if accepted they will be invoiced $230 to attend the camp.
Riders will receive a gear list and schedule of the camp at least 2 weeks prior to the camp occurring.
Riders attend the camp.

Eligibility – Development Squad Member
Age – Year 10 to 13.
Location – Rotorua, New Zealand
Time – Between December 13th to 15th 2023.
Cost – from $230.
Overnight – Yes.
Duration – 3 Days.
SQUAD EVENTS

How it works

We want to make important events beyond the Bay of Plenty more accessible to riders. The following calendar are potential events we would look to target for Development Squad trips.

Once a riders application is approved they will be invoiced for $150 and will receive the confirmed event calendar along with estimated costs for each trip. Returning riders do not have this fee.
From here each family decides which events they want to target and accepts the invitation to the events they wish to attend.
Once an event is selected an automatic 50% deposit invoice is sent with the trip costs estimated.
From here it is the rider/families responsibility to train, book flights, enter the event etc.
Shortly before the event, the balance payment is invoiced to the rider and prompt payment is expected.

The invoice includes: Accommodation, Vehicle Hire, Transport Costs, Food, and other logistics.

Potential costs not included in invoice: Race entry, flights, staff costs, spending money, race/travel insurance, international travel costs.

Squad events costs range, to give you an idea, here are some ball park figures for a 3 day trip. Central North Island can be as low as $100. Upper and lower North Island are roughly $300. South Island is roughly $600. International can be $1000+.

If relevant, riders will be recommended a flight as early as practically possible to ensure booking of cheaper fares.

We need your help to keep costs down by obtaining sponsorship. Check out our partnership proposal and share it through your networks. —->

DirtCraft Sponsorship

We ask you to help DirtCraft obtain sponsorship in order to cover the Rider Assistance Initiative, staff expenses, booking and planning costs to keep fees down for the riders. Please check out and share our partnership proposal. Riders can receive 20% of obtained sponsorship as a credit to their account. So there is individual incentive to obtain sponsorship for DirtCraft. The attached Proposal is intellectual property of DirtCraft and may only be used by DirtCraft riders and families to obtain sponsorship for DirtCraft. It may not be copied in any way.

Riders eligible to attend events must:

Be current Mountainbike Tauranga Club Member
Be able to ride Grade 5 trails or higher.
Have suitable equipment.
Is Year 10 to Year 13.
Demonstrates frequent effort to obtain personal growth from Mountain Biking.
Meets selection criteria and has a successful application.

2024 Proposed Events*
All applications are to be sent to Tristan at tristanhride@gmail.com by 22nd September 2023. You should complete your application like applying for a job. What can you bring to the Development Squad? Why do you want to be involved? What experiences do you want to take away from this opportunity? These are some good questions to think about to get you started.